Studio DH13 Two Handed Spey Rod
Model - Size
6 wt Trout Spey
7 wt Large Trout / Steelhead
8 wt Steelhead/Salmon
★ ★ ★ ★ ★
Over 3500 5-Star reviews awarded by discerning fly anglers worldwide.
THE EPIC PROMISE
SHIPPING
WHY BUY EPIC?
CONTACT
FLY ROD SELECTOR
Buy with Confidence.
100% Satisfaction Guarantee and Epic Lifetime Support.
We ship tracked courier internationally every single weekday.
Shipping and tracking information is emailed out to you and SMS updates provided also.
More fly rod for your money.
Servicing our customers direct means we're free to use the highest grade components and materials available and offeroutstanding service and support.
If you have any doubts as to our commitment to quality products and customer support please read our reviews.
NZ HQ
Address: 2 Endeavour St, Unit 1, Wanaka, New Zealand. Ph: 03 443 1350 Email:
Email Us
contact@swiftflyfishing.com
Find Your Perfect Fly Rod
Take our 10 second fly rod quiz and we'll find your perfect match
The Spirit of Craftsmanship
Built to last. Built to last a lifetime using only the very finest components money can buy, premium guides, flawless wraps, alignment dots - no detail is overlooked.
Each fly rod is backed by our industry-leading support. 
You'll be passing this Epic onto your kids.
Break a Tip? We've Got You Covered.
Gone are the days of having to return a broken section and waiting weeks for a return. Our Surefit™ ferrule system is so precise that breakages can be addressed by simply sending out a replacement part - same day.
A high strength internal ferrule is placed at each join to provide superior crush and split resistance.
Extraordinary Fly Rods
Extra care, extra effort, extra attention to detail.
The difference between ordinary and extraordinary is that little bit extra.
Our goal is that you will be passing your Epic onto your kids.
Customer Reviews
Write a Review
Ask a Question
Filter Reviews:
fishing
rods
Epic
Spey
workmanship
size
bonus
hand
feel
casting stroke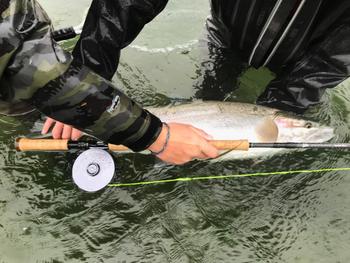 10/06/2018
Outstanding performance
I've long been a fan of the Fast Glass rods and have pretty much exclusively fished the 480-3 on local trout streams for the last eighteen months or so. Earlier this year I had the opportunity to cast two of the carbon rods, the 690C and 7130C DH. With an Alaskan rainbow trip around the corner I decided to invest in the 8wt. I was not disappointed: it threw 540-570 grain Skagit lines with 10' T-14 tips and medium-sized weighted streamers with ease and was a joy to cast a Scandi line on too. I'm still relatively new to spey casting and I haven't tried all that many DH rods so it's difficult to describe the action other than that it feels considerably faster in the tip, yet you still feel the rod load all the way down and it has a ton of backbone when you need it. Not only is it incredibly compact, making it a breeze to travel with, but it is also surprising light, perfect for long days on the river. In short, I'll be hard pressed to find a reason to take my other 'big rod' out anytime soon. Fingers crossed an opportunity will arise to treat myself to the 6wt.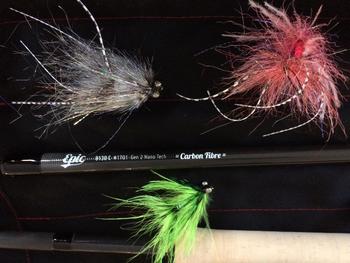 09/25/2017
Epic DH13 6pce 7130C a piece of art
Extremely nice to look at and very light for type of rod. The finish on all areas is top notch. Best cork seen on any rod full stop. Thanks for a top class product
Nick L.

New Zealand
04/02/2017
The stealth
I have been casting my new Epic 7/8 weight two hander for a few weeks and so far I have run. A mid-belly, skagit and scandi head with full sinking to intermediate tips, a ballistic launcher, and a Wulff super salmon Spey. I have found lines closer to the eight weight in grain scale work a little better. I would say the rod has a progressive action which was a surprise considering the number of ferrules. More pieces means more ferrules which often means stiffness but not here,with the tip of the rod loading nicely during the forward cast and when required plenty of flex left through the mid section when needed for long sink tips and heavier flies, its light weight which makes it's a great fishing tool and also it's easier to transport. It will be my weapon of choice on some up coming trips and casting days.
Shaun A.

Australia
01/15/2021
Fantastic Xmas Present
I was so excited to get my Xmas present this year an epic DH8/13. As expected the service, quality and the workmanship was first class. As a full time guide and casting instructor this rod has to not only look good but first and foremost it has be a great rod to cast and fish with. I not only fish this rod in rivers but more often off the rocks and off the beach and in the hands of clients new to fishing and casting Spey rods. All of my rods have to perform well and stand up to harsh saltwater environments my livelihood depends on it. I love my new Epic and the feedback from my clients is has been very positive. I get to cast a lot of rods and I wouldn't swap my Epic for any of them. Thanks for making such beautiful rods, Brian Henderson.
Brian H.

Australia
12/05/2020
DH13 6# two hander
This rod has the stunning workmanship of all the Epic rods and will become my go to rod for both local and overseas fishing with the added bonus of being an ideal size and weight for teaching.
Shaun A.

Australia
Love It or Return It
100% total satisfaction guarantee
5 Star Support
Industry leading support and service
Easy Returns
Hassle free returns
World Wide Shipping
Shipping worldwide daily