586G-6 5 Weight Packlight Graphene Fly Rod Building Kit
Grip
Slim Wells
Half Wells / Western
★ ★ ★ ★ ★
Over 3500 5-Star reviews awarded by discerning fly anglers worldwide.
THE EPIC PROMISE
SHIPPING
WHY BUY EPIC?
CONTACT
FLY ROD SELECTOR
Buy with Confidence.
100% Satisfaction Guarantee and Epic Lifetime Support.
We ship tracked courier internationally every single weekday.
Shipping and tracking information is emailed out to you and SMS updates provided also.
More fly rod for your money.
Servicing our customers direct means we're free to use the highest grade components and materials available and offeroutstanding service and support.
If you have any doubts as to our commitment to quality products and customer support please read our reviews.
NZ HQ
Address: 2 Endeavour St, Unit 1, Wanaka, New Zealand. Ph: 03 443 1350 Email:
Email Us
contact@swiftflyfishing.com
Extraordinary
Extra care, extra effort, extra attention to detail.
The difference between ordinary and extraordinary is that little bit extra.
Our goal is that you will be passing your Epic onto your kids.
Customer Reviews
Write a Review
Ask a Question
Filter Reviews:
delivery
Epic
Packlight
something
Swift
piece
book
test
customer service
reason
09/06/2021
Epic 586G-6 Travel Rod
I really enjoyed building up this rod. I decided to change the reel seat from the standard one supplied with the kit for no other reason than I wanted to try something different and have the up locking ring fixed to simplify the reel attachment process. My preference would have been to use the Epic triangular reel seat but this is now restricted to custom built rods. Super fast delivery, as usual, and great customer service from Adam who responded to my queries quickly and with good advice. I'm looking forward to trying the rod out when Australia gets the vaccination rate up and we can start moving around again. The packlight and an e-mountain bike seems like the perfect formula for a lot of fun in Tassie if I can get there.
Steve

Australia
09/03/2021
Building the perfect beast - 586 graphene
What a trip- who on earth would start with a 6 piece? I really wanted to build a rod and coupled with my bike packing obsession the Packlight fitted the bill and I finally took the plunge. Said package arrived in good time before lockdown, so much so that the epic rod dryer arrived just in good time. The process was tense at times but ultimately very satisfying- rod building that is The process was as described in the book and the supporting videos just confirmed that I was all fingers and thumbs at times I'm pleased with the result the rod casts really well and I'm looking forward to 1 October to put it to the test. Well done Swift team you rock! I will be buying another in the future!
Marcus B.

New Zealand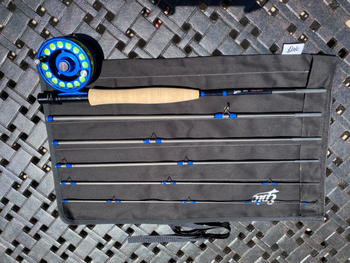 07/04/2021
Superb
As always, the quality of the components was too notch. I was surprised by how well the rod casts. I built it as a gift for my son but have to confess that after casting it the thought of keeping it for myself did cross my mind.
Lilip L.

United States
10/04/2022
5 weight Packlight Graphene
This was my second build kit purchased from Epic, and the rod was just as much fun to build as it is to cast and fish. Seriously good taper that is so light and responsive. Chuck it in your backpack and get outside!
11/05/2021
586G-6 5 Weight Packlight
Great rod at a great price. Lovely cork and fittings. My second kit rod from Epic.
Mick D.

Australia
Epic People On Instagram
Tag @epicflyrods to be featured
#epicflyrods #epicpeople
Love It or Return It
100% total satisfaction guarantee
5 Star Support
Industry leading support and service
Easy Returns
Hassle free returns
World Wide Shipping
Shipping worldwide daily