Studio 5wt 586-6 G Packlight Backpacking Fly Rod
★ ★ ★ ★ ★
Over 3500 5-Star reviews awarded by discerning fly anglers worldwide.
THE EPIC PROMISE
SHIPPING
WHY BUY EPIC?
CONTACT
FLY ROD SELECTOR
Buy with Confidence.
100% Satisfaction Guarantee and Epic Lifetime Support.
We ship tracked courier internationally every single weekday.
Shipping and tracking information is emailed out to you and SMS updates provided also.
More fly rod for your money.
Servicing our customers direct means we're free to use the highest grade components and materials available and offeroutstanding service and support.
If you have any doubts as to our commitment to quality products and customer support please read our reviews.
NZ HQ
Address: 2 Endeavour St, Unit 1, Wanaka, New Zealand. Ph: 03 443 1350 Email:
Email Us
contact@swiftflyfishing.com
Extraordinary
Extra care, extra effort, extra attention to detail.
The difference between ordinary and extraordinary is that little bit extra.
Our goal is that you will be passing your Epic onto your kids.
Customer Reviews
Write a Review
Ask a Question
Filter Reviews:
line
Epic
weight
piece
angler
stream
Covid
assembly
Cant
fly rods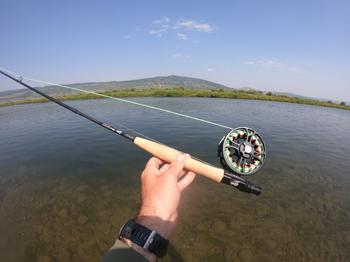 07/26/2021
The Epic brand is most certainly appropriate!
The rod, reel and line all performed exceptionally well on my first backpacking trip with them. Super light weight and perfect for my backcountry trip.
Jimmy H.

United States
08/27/2022
Fantastic 5 wt pack fly rod
You can not tell that you are fishing a 6 piece fly rod. The 586-6 G Packlight Fly Rod performs as wells any 2 or 4 piece rod anywhere. It is light, crisp but not stiff. The rod sends all the signals from the line to the angler and the whole casting stroke becomes intuitive. It is truly a joy to cast. And at 8 1/2 feet it covers all the bases. It also balances beautifully with a 5/6 Backcountry reel. Absolutely EPIC.
Alan C.

United States
01/24/2022
Precision superlight fly rod
I wanted to fish this rod before leaving a review. I own (to many ) high end fly rods, Sage, Asquith, Scott Sector etc, and bought initially from Epic cause I wanted a glass rod, but was so impressed with that (5 and 8 wt) that I thought I'd give the graphite travel rod a try. Lake trout fishing yesterday: -Tiny before assembly, easy to fit in a backpack -Really light, was fishing a 6 weight SA Ando floating line on another rod, so switched over wondering how the Epic would handle it.. absolutely perfectly! - Fabulous short to midrange, really accurate, an absolute pleasure -Long (80-90ft) casts to rising fish - windspeed 10mph, so a calm day- easy! - I'd like to fish it on a windy day, but feel the rod has more than enough backbone to handle this! In all, I'm exceptionally pleased with my purchase, and with my good fortune in having found this company, every product I've bought from them has exceeded all expectations, communications have been friendly and prompt, I really hope the company will be around forever!
Niklaas K.

United Kingdom
10/04/2021
5wt 586-g Backing fly Rod
Feels amazing and wouldn't think it a 6 piece! Cant wait to get it on stream as only given it a dry run due to covid
Ian T.

Australia
07/03/2021
5wt 586-6 G Packlight Backpacking Fly Rod
Casting smooth and on target, the 586 Packlight is smooth and light and very resposive indeed. Many thanks team, a great experience all round and a terrific fly rod.
Pete H.

United States
Love It or Return It
100% total satisfaction guarantee
5 Star Support
Industry leading support and service
Easy Returns
Hassle free returns
World Wide Shipping
Shipping worldwide daily