Reference 5wt 590G Carbon Fiber Fly Rod
★ ★ ★ ★ ★
Over 3500 5-Star reviews awarded by discerning fly anglers worldwide.
THE EPIC PROMISE
SHIPPING
WHY BUY EPIC?
CONTACT
FLY ROD SELECTOR
Buy with Confidence.
100% Satisfaction Guarantee and Epic Lifetime Support.
We ship tracked courier internationally every single weekday.
Shipping and tracking information is emailed out to you and SMS updates provided also.
More fly rod for your money.
Servicing our customers direct means we're free to use the highest grade components and materials available and offeroutstanding service and support.
If you have any doubts as to our commitment to quality products and customer support please read our reviews.
NZ HQ
Address: 2 Endeavour St, Unit 1, Wanaka, New Zealand. Ph: 03 443 1350 Email:
Email Us
contact@swiftflyfishing.com
Find Your Perfect Fly Rod
Take our 10 second fly rod quiz and we'll find your perfect match
The Spirit of Craftsmanship
Built to last. Built to last a lifetime using only the very finest components money can buy, premium guides, flawless wraps, alignment dots - no detail is overlooked.
Each fly rod is backed by our industry-leading support. 
You'll be passing this Epic onto your kids.
Break a Tip? We've Got You Covered.
Gone are the days of having to return a broken section and waiting weeks for a return. Our Surefit™ ferrule system is so precise that breakages can be addressed by simply sending out a replacement part - same day.
A high strength internal ferrule is placed at each join to provide superior crush and split resistance.
Extraordinary Fly Rods
Extra care, extra effort, extra attention to detail.
The difference between ordinary and extraordinary is that little bit extra.
Our goal is that you will be passing your Epic onto your kids.
Customer Reviews
Write a Review
Ask a Question
Filter Reviews:
rods
Epic
power
Plenty
590G
fish
weight
action
customer service
feel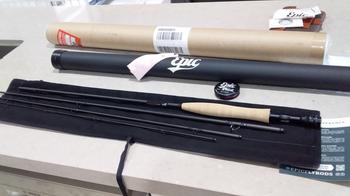 01/31/2023
Reference 5wt 590G
I had been looking at Epic Rods for a while and doing a bit of online review searching. I live a long way from any trout water and not many tackle shops around here stock trout fly gear. I am pretty much only able to look at new rods when I travel either down south or to NZ. I am a fan of what Swift are doing with the rod designs and the marketing concepts. I like the idea of a 5wt rod actually being a true 5wt and that is certainly the case with this rod. I have only lawn cast the rod so far and it is an amazing rod. Super smooth with great tip recovery and no tip bounce. Great from super short cast with pretty much only the leader out of the rod tip and very progressive as you lengthen the cast. Plenty of power to cast long if you want and maintains its smooth characteristics when you put the "hammer" down to increase line speed at any distance. Probably the best roll casting rod I have ever used. Overall, a very responsive rod with great feel. I can't wait to catch some fish with this rod. As for the build - beautifully built with great components through the whole rod. The rod was a gift from my wife (wonderful lady) and so all correspondence from Swift goes to her but it's really my rod! I'll be in Wanaka later in the year and plan to drop into Swift and thank you personally for the work that has gone into developing such a wonderful product - who knows I might have to pick up a 6wt to top up the arsenal. Cheers, Dennis
Karen Y.

Australia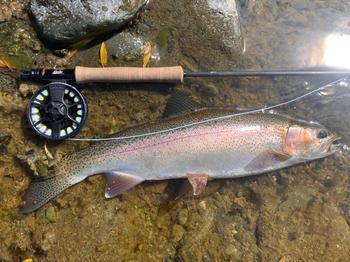 01/20/2022
EPIC 590C
Bought the kit and enjoyed making the rod. Very detailed instructions and high quality fittings etc . This has now become my favourite rod to use
Kevin

New Zealand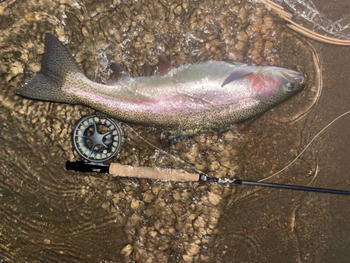 12/09/2021
590G
Excellent rod, plenty of power in the rod and good fighting power. Great rod, lots of fun! I recommend getting the 5wt epic line, the two go hand in hand. Thanks a lot team for a great product!
Matthew P.

New Zealand
01/21/2023
Superb
Superb rod . Good BackBone. Plenty of power. I have many 9 for 5 Probably the best one
Anonymous

France
01/15/2023
Reference 5wt 590G Carbon Fiber Fly Rod
An excellent fishing tool. Does everything you want a 5wt rod to do including catching trout. First cast with a dry on my local river and 'fish on'. Can't ask for more than that! A good looking fishing rod that is instantly recognisable from the rest!
Chris L.

Australia
Love It or Return It
100% total satisfaction guarantee
5 Star Support
Industry leading support and service
Easy Returns
Hassle free returns
World Wide Shipping
Shipping worldwide daily